Step 5 QRS Complex - Cardiac Rhythms
Description
The QRS represents ventricular depolarization.
It is very important to analyze each QRS complex on the tracing and report the duration measurement and describe the shape (including any changes in shape).
As discussed earlier in step 3, when referring to P waves, remember changes in the shape of the waveform can indicate the locus of stimulation has changed or a different conduction pathway was followed. It is no different when analyzing the QRS complex.
The difference is that in step 3, we were looking at atrial activity. Now we are looking at ventricular activity.
Measure QRS complex from the beginning to the end of ventricular depolarization.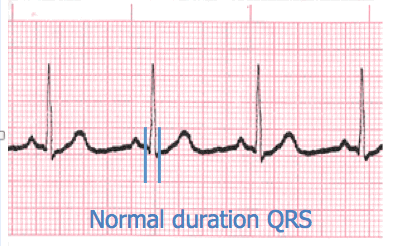 Description 2
The normal duration of the QRS complex measures from: 0.06 – 0.10 second
When the QRS measurement is 0.12 seconds or greater it indicates a delay in the electrical impulse as it is passing through the ventricular conduction system
Abnormal duration QRS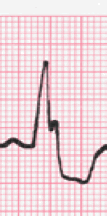 QRS Measurement 1

Analyze this tracing. What is the QRS duration?
Reveal Answer

2 small boxes (2 X 0.04 second) = 0.08 second
QRS Measurement 2

Analyze this tracing. What is the QRS duration?
Reveal Answer

4 1/2 small boxes (1/2 X 0.04 second) = 0.18 second